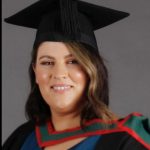 PIC
Lynda has qualified with a BSc in General Nursing, a Postgraduate Diploma in Palliative Care Nursing, and MSc in Healthcare Management and is currently studying for a Postgraduate Diploma in Infection Control. She has worked mainly in care of the older person for the last ten years, with almost four years of management experience in this area. Lynda has worked as the Director of Nursing in Ealga Lodge Nursing Home since 2018 and has a special interest in end of life care and promoting person centred care and wellbeing.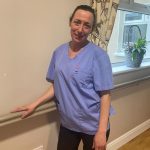 Care Supervisor
Hi my name is Martina and I am a care supervisor here at Ealga Lodge Nursing home. I have worked here for 15 years and I am a supervisor for 10 years now. I am very happy with my role. I am responsible for supporting and supervising care assistants when we are tending to resident's needs. I love my job here it feels like a second home. I have developed a close bond with each resident here and always enjoy getting to know new residents also. Ealga Lodge is a friendly welcoming place, I've enjoyed every moment here and I'm excited for many more to come.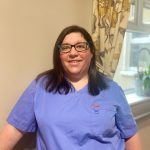 Care Supervisor
Hello my name is Amanda. My role in Ealga Lodge is a care supervisor. I'm working in Ealga Lodge nursing home for 13 years and I am a supervisor for 9 years. My role is very important to me as I have to make sure all residents are cared for properly. I love my job and enjoy coming to work.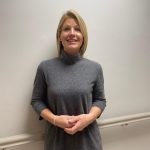 Admin
Hi my name is Ashling, you will see me at the front reception desk or in the accounts office, and I am working here since 2010 and really enjoy my days in Ealga Lodge.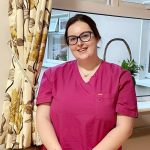 Activities
Hello my name is Chloe. I am a part of the Ealga Lodge team for 2 years now. I am the activities co-ordinator and my role is to make the resident's day fun, active and to carry out all their favourite activities. When all the residents are happy I'm happy. I'm loving every single minute working here as it's a very friendly nursing home and everyone is great friends. I enjoy making new activities and to give the residents a good variety throughout the week.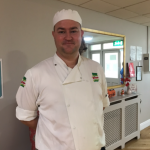 Chef
Hi my name is Denis, I studied culinary arts in Athlone institute of Technology. I try to give the residents in Ealga Lodge nursing home a wide variety of food each day. We source all our food locally. I'm working in kitchens as a chef for 25 years now. I joined the Ealga Lodge team nearly 3 years ago.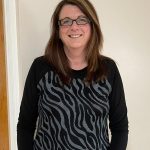 Administrator
Hi my name is Breda. I work as administrator for Ealga Lodge Nursing home since 2004. I greatly enjoy the variety of my job which includes accounts, payroll, leasing with residents and family members.
Ealga Lodge is situated in the village of Shinrone which lies on the border between Offaly and Tipperary. Shinrone is a very close-knit community and our residents enjoy maintaining their links with this community through Mass, Prayer Service, functions in the local hall, visits from children attending the local school and crèche and visits from the local Social Services Group.
Ealga Lodge Nursing Home is a purpose-built nursing home providing 24-hour nursing-led care.
Our staff provides care and assistance for residents who are low dependency seeking assisted daily living, medium dependency seeking some degree of medical attention or high dependency requiring total nursing care. Ealga Lodge participates in the Nursing Home Support Scheme (Fair Deal Scheme).
We offer long-term, convalescent and respite care, dementia care, post-operative rehabilitation and end of life care for people over the age of 18 years.   
Preadmission assessments are carried out with all potential Residents to ensure that Ealga Lodge is the appropriate setting and is capable of meeting with the Residents care needs
Accommodation in Ealga Lodge is set out two floors. All bedrooms are ensuite with level access showers and are complete with television and nurse call alarm. As a purpose-built nursing home, the layout and design of the home ensures that Residents bedrooms are located away from our busy dining and living rooms.
Residents can avail of accommodation on our First Floor in either the "Regan" "Kennedy" "Obama" or "Clinton". The Obama Wing The nursing home has an oratory in which residents can fulfill their spiritual needs or enjoy some peaceful space.  
There are a number of spacious lounge areas in which residents and their loved ones can relax and enjoy the in house social activities or family gatherings (when possible). Residents are also welcome to enjoy our outside space including an internal courtyard which has a relaxing water feature.
There is a Hair Salon situated on the second floor in Ealga Lodge. While residing in Ealga Lodge residents can enjoy the opportunity to schedule an appointment. If the resident prefers to attend the local hairdresser which is in close proximity to the Nursing Home, this can also be arranged.
Meals are served in our dining room where our highly skilled chefs will provide nutritious, wholesome and tasty food in conjunction with the dietary needs and personal preferences of the residents.
Internet access is available for all residents, there is a Smart TV in the lounge where residents can avail of a wide range of television programmes, documentaries and films. We have a tablet available for our residents to Zoom or Skype their loved ones and our skype address is ealgalodgeshinrone@gmail.com. We also have facilities available for Whatsapp video calls.
The Person in Charge and the Administrator can be accessed in their own offices and the Clinical Nurse Manager and Nurses are available at the Nurses' Station or alternatively via the call bell.